Yahoo! Wireless Festival 2013: See Justin Timberlake, Jay-Z, Rihanna Perform [Video]
For any pop fans who were lucky enough to be at the 2013 Yahoo! Wireless Festival, they got quite the show.
The London crowd was treated to an epic performance by Justin Timberlake and Jay-Z, just before the duo kicks off their Legends of the Summer tour in Toronto on July 17. The crooner and rapper performed their joint track 'Holy Grail' off of HOV's new 'Magna Carta Holy Grail' during their two-and-a-half hour set. But it wasn't just a JT and Jay-Z bro-down, they were joined by Rihanna, who performed 'Run This Town' with Hova!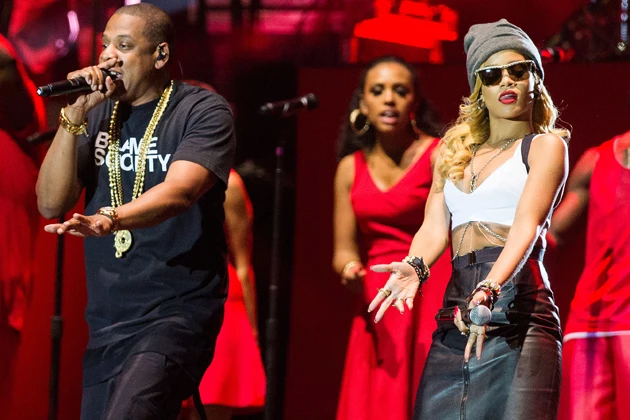 Watch Jay-Z + Rihanna Perform 'Run This Town'
http://youtu.be/Hir6THil8BA
Watch Jay-Z + Justin Timberlake Perform 'Holy Grail'
Subscribe to Y101, Today's Best Music on
RiRi, who also played a solo set at the Wireless Festival, tweeted after:
#Wireless #LegendzOfTheSummer #OpeningNight #Hov #JT #London you were on one tonight!! One Love!! http://t.co/QUPFryIUgQ

— Rihanna (@rihanna) July 14, 2013
Watch Rihanna Perform 'We Found Love'
http://youtu.be/BHMhx85ZFz4
JT was also pumped after his joint show with Jay-Z and also took to Twitter to express his elation:
London… I have NO WORDS. That was a night I will never forget. Unreal. Hope you had as much fun as we did. #TNKids #WirelessFestival

— Justin Timberlake (@jtimberlake) July 13, 2013
In addition to JT, Jay-Z and Rihanna, fans were treated to performances on the hip-hop heavy bill by Kendrick Lamar, A$AP Rocky, Iggy Azaela and more.
But the three-day festival was not devoid of good ol' pop music, the ladies of Little Mix also performed an amazing girl band mashup, not to mention both Rita Ora and Jessie Ware took the stage as well.
Check out more videos below!
Watch Rita Ora Perform 'R.I.P'
Subscribe to Y101, Today's Best Music on
Watch Little Mix Perform a Girl Band Mashup
Subscribe to Y101, Today's Best Music on
Watch Kendrick Lamar Perform 'Poetic Justice'
Subscribe to Y101, Today's Best Music on
Watch A$AP Rocky Perform 'F—in' Problems'
Subscribe to Y101, Today's Best Music on
Watch Iggy Azalea Perform 'Work'
Subscribe to Y101, Today's Best Music on

Source:
Yahoo! Wireless Festival 2013: See Justin Timberlake, Jay-Z, Rihanna Perform [Video]